Corporate Philosophy
Through economic activities in Japan and in the global market, Morioka Group utilizes knowledge, experience and execution to help contribute a bright and eco-friendly society.
Messages from the President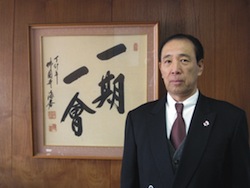 MASAYUKI SUMIDA
President
Since our founder, Shozo Sumida, established the company in 1959, assembly of stationary and vacuum formed products has been our main business. Today, we also cover overall logistics for our customers.
Moreover, in the future, we need to focus more on environmentally friendly products and expand our global prospects in response to the challenging domestic economy. We can meet any request by utilizing our global network.
"Ichigo-Ichie" (Treasure every encounter, for it will never recur.) has been our motto since our establishment in 1959. We hope to be a "necessary" company for each of our customers by valuing every encounter.
Our Logo represents togetherness, to share happiness hand in hand with our employees and clients, and our hope to contribute to the betterment of society.